Lipidure®-CM (MPC polymer)
NOF is pleased to announce that a Device Master File has been submitted to the FDA for Lipidure®-CM5206.  The Lipidure®-CM5206 Master File contains important confidential information regarding the composition and manufacturing information needed as part of a medical device submission to the FDA.
Chemical structure


Coating Method
Available substrate
Lipidure®-CM5206 can be coated on the following materials


Feature

・Suppression of protein adsorption

<<Method>>
1. Prepare well plate coated with Lipidure®-CM5206
2. Add HRP-IgG conjugate solution into each well
3. Incubate for 1 hr at 25 ºC
4. Rinse three times with 0.05 % Tween®20 (*) /Dulbecco's PBS
5. Add of 3,3',5,5'-tetramethylbenzidine solution into each well
6. Measure absorbance at 450 nm
*Tween® is a registered trademark of Croda International PLC.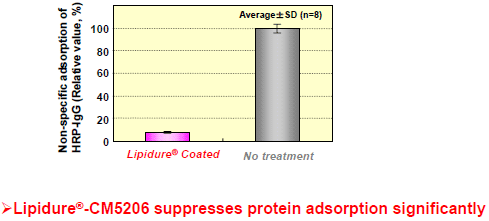 ・Suppression of cell adsorption

<<Method>>
1. Prepare well plate coated with Lipidure®-CM5206
2. Seed macrophage in well plate at 3.3x105 cells/well
3. Incubate for 1 hr at 37 ºC in 5% CO2 atmosphere
4. Rinse off with Dulbeco's PBS
5. Fix with glutaraldehyde and Observation by SEM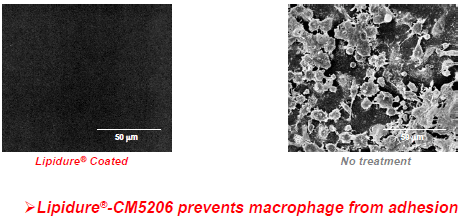 ・Hemo-compatibility

<<Method>>
1. Prepare artificial vascular coated with Lipidure®-CM5206
2. Rabbit blood was flowed in Lipidure®-CM5206 treated artificial vascular
3. Rinse artificial vascular with buffer solution
4. Take photo of inside of artificial vascular