SYUDOX® DEF-001-CS
Powder Defoaming Agent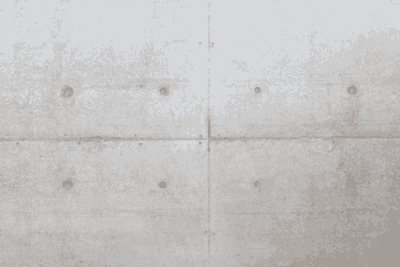 SYUDOX® DEF-001-CS is the powder type defoaming agent developed for premix products, such as polymer cement mortar.
FEATURES
✔
Excellent effect of defoarming.
✔
The stable prformance is shown on any temperature condition.
✔
Easy to mix with other power.
PROPERTIES

DOSAGE
Typically, the dosage of SYUDOX®DEF-001-CS varies from 0.01 to 0.2wt% of the cementitious material.
PERFORMANCE
Table 1. Mixture proportion of the mortar
W/C [%]

S/C

Redispersible polymer powder dosage

[C×%]

Defoaming agent dosage

[C×%]

48.0

2.0

5.0

0.02~0.15
W: Water C : Ordinary portland cement S : Fine aggregate (Silica sand) Redispersible polymer powder: acryl type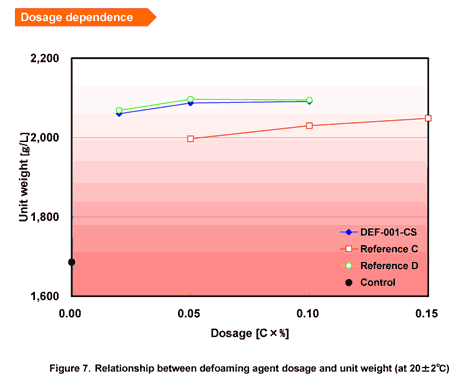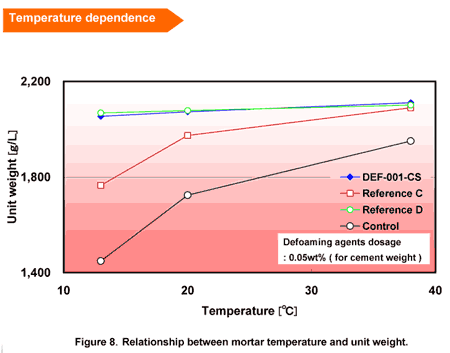 RESULTS OF MORTAR TEST
(1) Mixing Proportion

(2) Results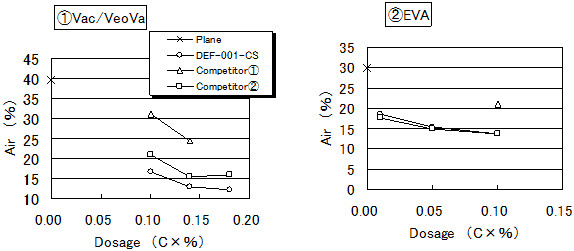 SAFETY DATA
HANDLING
: Avoid contact with eyes. Avoid prolonged or repeated contact with skin. When handling at elevated temperature, provide adequate ventilation. Avoid rough handling or dropping.
FIRST AID MEASURES
EYE
: Immediately flush with clean water until irritation disappear sufficiently, and consult a physician if necessary.
SKIN
: Immediately wash thoroughly with plenty of water.
INGESTION
: Immediately induce vomiting, and rinse mouth with water. If symptoms are not good after first-aid measures, consult a physician immediately.Do not induce vomiting or give anything by mouth to an unconscious parson.
PACKAGING
10 KGS NET IN A PAPER SACK
OTHER INFORMATION
Best fit dosage of DEF-001-CS depends on aggregate, mortar temperature and so on, try premix to give objective mortar.
To the best of our knowledge, although certain hazards are described herein, we cannot guarantee that these are the only hazards which exist.